Last month, the 103rd General Assembly concluded the Spring 2023 legislative session! The House and Senate worked together to pass 565 bills, which now head to Governor JB Pritzker to be signed into law. I am proud of what we accomplished to make our state a better place, and I am thrilled to share with you a few highlights from this past session:
We passed HB1186, the HMO Referral Bill, which allows patients enrolled in an HMO insurance plan the option to access in-network services and providers without actively obtaining a referral from a primary care physician to help remove barriers to care.
In a bipartisan vote, we updated the Illinois Bullying Prevention Statute from 2012. HB3425 requires schools to notify parents or guardians within 24 hours of a bullying incident, among other measures to help keep our students safe.
This past session I also introduced HB1251, which would expand the Angel Tax Credit program by $5 million to a total of $15 million. It was ultimately added to the omnibus revenue package. This legislation will encourage investment in new Illinois businesses ventures that are minority-owned, women-owned, or are located in smaller areas of the state outside of Chicago. The program will remove barriers and increase equity across our communities.
The General Assembly also fulfilled our obligation to pass a budget that is both fiscally and socially responsible. The balanced budget continues to rebuild Illinois' fiscal health and expands opportunities for a brighter future. We have allocated $250M for the Smart Start Illinois program to support the childcare workforce and early childhood education, put $200M towards homelessness prevention, and made higher education more accessible with a major investment in college aid funding by appropriating $100M to the MAP grant program.
We are investing in safer neighborhoods by funding community-based violence prevention programs and providers that offer after-school programs, youth summer jobs, and enrichment programs. We are giving $100M in training and resources to our first responders that will be directed for in-car cameras, non-lethal weapons, and two new State Police cadet classes.
We are also investing in projects throughout Illinois that enrich our communities.
I am happy to announce that I have received funding for the 12th district that will go to a variety of neighborhood improvements. I look forward to sharing those updates with you in the weeks and months to come.
Support for New Arrivals
Over the past few months, migrants have been cruelly transported from the southern border to areas throughout our city and state with little to no notification. Our Chicago Police stations have been at the front lines supporting and housing migrants until space becomes available at local shelters. Local Police Council Members and community leaders have come together to help provide support and aid to our new neighbors.
In my conversations with 18th and 19th District Police Council members, the biggest need at both stations is meal donations and deliveries. Please consider signing up through the provided links below if you can donate and deliver lunch or dinner on a given day/time.
18th District Meal Delivery
19th District Meal Delivery
Additionally, we are collecting dry breakfast foods, such as cereal and breakfast bars, and milk and juice that do not require refrigeration. If you are interested in supporting this effort, please consider dropping off breakfast donations at our office at 3223 N Sheffield Ave., Suite A and mention it is for the 18th District migrants.
Wine Night with Your Elected Officials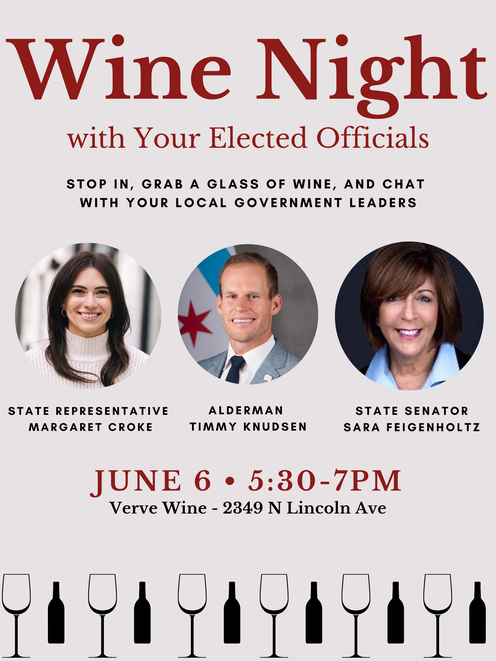 I am co-hosting a Wine Night with State Senator Sara Feigenholtz and Alderman Timmy Knudsen on June 6 from 5:30 pm – 7 pm at Verve Wine. Stop in, grab a glass of wine, and meet your local elected officials! RSVPs are not required for this event. If you have any questions, feel free to email us at info@repcroke.com.
Happy Pride Month!
This month we celebrate the LGBTQIA+ community and recognize the ongoing fight for equality. Throughout the country, LGBTQIA+ rights have been under attack by far-right extremists, but we are proud to live in a state that is a safe haven for all – defending marriage equality, ensuring access to gender-affirming care, and making lifesaving HIV/AIDS prevention medications more accessible. I am proud of the great strides we have made over the past year to ensure that every person in Illinois is guaranteed the same rights, regardless of who you love. I hope you will join me in celebrating Pride Month by attending one of the many events throughout Chicago!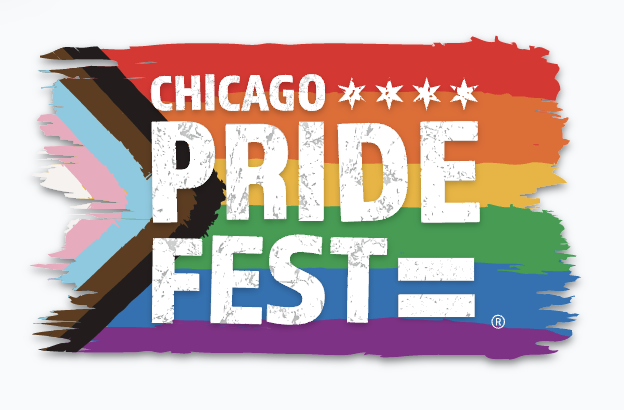 Chicago Pride Fest will take place along North Halsted Street on June 17th and 18th! Join us in celebrating the LGBTQIA+ community with live music, drag performances, a pet parade, food and merchandise vendors, and more. For more information, please click here.
My team is so excited to be walking in the 52nd annual Chicago Pride Parade on June 25th beginning at noon! The parade will start at Montrose and Broadway in the Uptown neighborhood and continue down the city's north side to the intersection of Diversey and Sheridan in Lincoln Park. To see a map of the parade route, click here.
Grant Opportunity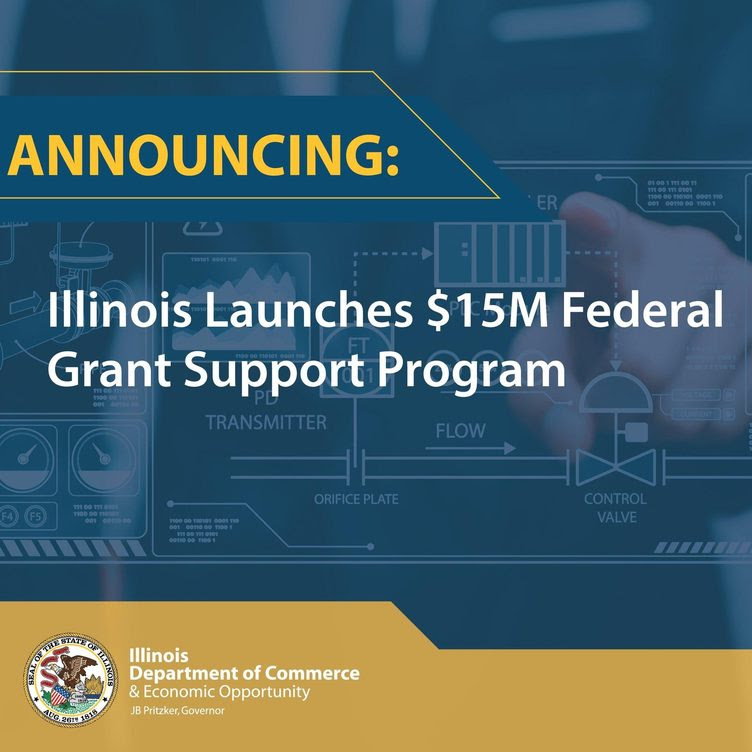 Governor JB Pritzker recently announced the Federal Support Grant Program to help Illinois compete for additional federal funding to strengthen our businesses and communities. Illinois-based businesses and organizations seeking federal grants that align with the State's economic development objectives are encouraged to apply through the Department of Commerce and Economic Opportunity to have part of their match covered by state dollars. More information can be found here.
Do you want to stay up-to-date on active state grant opportunities?
Subscribe to Illinois NOFO Notifications to receive a weekly digest of Funding Opportunities (NOFO) offered by state agencies.
To subscribe, send a blank email (subject and body) to subscribe-omb-gata-grants@lists.illinois.gov.
In the Community
American Jewish Council Luncheon
I recently had the opportunity to attend the American Jewish Legislative Affairs Council Luncheon. I sat down with council members to discuss the spring legislative session, bills that recently passed, and answer questions about Springfield and the 12th district. I am optimistic about the work that the American Jewish Council is doing and look forward to all the ways we can work together to make our communities stronger.
Community Updates
Medicaid customers have not had to renew their Medicaid coverage since the COVID-19 pandemic began. Now, Illinois is starting renewals again to check eligibility. Click Manage My Case at abe.illinois.gov or call 1-800-843-6154 to check your renewal date and find additional information.
Recently the Redefine the Drive task force presented potential improvements that would occur between Belmont Avenue and Addison Street.  If you were not able to attend the meeting, you can view the presentation here. The task force would like to hear your input! Email questions and comments to info@ndlsd.org.
PAWS Chicago Partnership
We have a new PAWS Chicago pal to introduce for June: Meet Tracy!
Tracey is a blue-eyed beauty who is looking for a home that will give her lots of attention and love! She is an intelligent pup and loves to solve puzzles to keep her brain busy. If you are interested in adopting Tracy or any of her friends, check out 
PAWS Chicago
 to find more information.
Small Business Shoutout
We are excited to feature a small business shoutout this month. For June, we are thrilled to spotlight Verve Wine! This Lincoln Park small business opened up in 2016 and is co-owned by Master Sommelier Dustin Wilson and business partner Derrick Mize. They also have a wine shop in New York City and San Francisco.
"Whether you're adding to a life-long wine collection or just filling in a few holes in your kitchen wine rack, there's always something new to find at Verve Wine. To us – guys who love to drink great wine, the best part of wine is sharing in the discovery of it all.
We wanted Verve Wine to not simply be a place to buy wine but also a source of inspiration to a community of fun, curious drinkers just like us. Four years in and we're still curious and still having a ton of fun."
If you have a favorite store, restaurant, or other business in the district for future Small Business Shoutouts, let us know!
It is my priority to ensure my office serves as a resource to you. Please don't hesitate to reach out!