I hope you are staying warm and that your 2023 is off to a great start.
Just a few weeks ago, I was sworn into the 103rd General Assembly for my second term as your State Representative.
I'm proud of what we were able to accomplish in my first term, including passing legislation to expand access to fertility treatments for all Illinoisans regardless of sexuality or relationship status; to require training for EMTs and paramedics on the care of individuals with Alzheimer's disease and dementia; and to bring equity to the interior design industry by allowing interior designers to stamp their own projects that are non-structural.
My colleagues and I provided relief to small businesses throughout the state during the height of the COVID-19 pandemic, solidified Illinois' status as the most pro-choice state in the country, and got us back on track to fiscal stability. We also passed a major criminal justice package and made nation-leading progress in the fight against climate change with the passage of the Climate and Equity Jobs Act.
There is so much more work to be done, and I look forward to continuing to represent you in Springfield for the next two years.
Lame Duck Session Recap
In the final days of the 102nd General Assembly, we worked diligently to pass landmark legislation to help make our state safer and more equitable for everyone. We passed the Protect Illinois Communities Act, which the Governor quickly signed into law, to make Illinois the ninth state in the country to ban assault weapons and high capacity magazines. We also strengthened Illinois' status as a safe haven for women's reproductive rights by adding additional protections for patients and physicians to meet the needs of Illinoisans and out-of-state patients. We passed the Paid Leave for All Workers Act, ensuring all Illinois employees will get 40 hours of paid leave each year to be used for any purpose starting on January 1, 2024.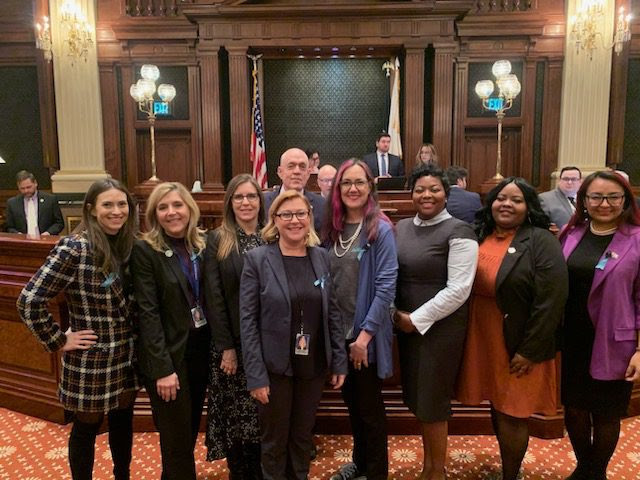 103rd General Assembly Committees
This week, Speaker Welch announced the House Democratic committee assignments for the 103rd General Assembly. In the early stages of the legislative process, every piece of legislation is assigned to a committee based on subject matter.
I am thrilled to announce that I have been named Chair of the Financial Institutions and Licensing Committee, and a member of the Revenue and Finance, Gaming, Childcare Access and Early Childhood Education, Adoption and Child Welfare, and Immigration and Human Rights Committees.
I look forward to working with members in the General Assembly to make Illinois a hub for innovation and entrepreneurship, introduce legislation that will support small businesses and incentivize investment in our start-up community, and advocate for policies that protect the futures of our children.
In the Community
Orr Shalom High School Youth Executive Board Meeting
I had the pleasure of joining students from Orr Shalom High School in their Youth Executive Board meeting. We discussed what it's like to be a State Representative in Illinois, and I loved hearing their great ideas for making our community a better place.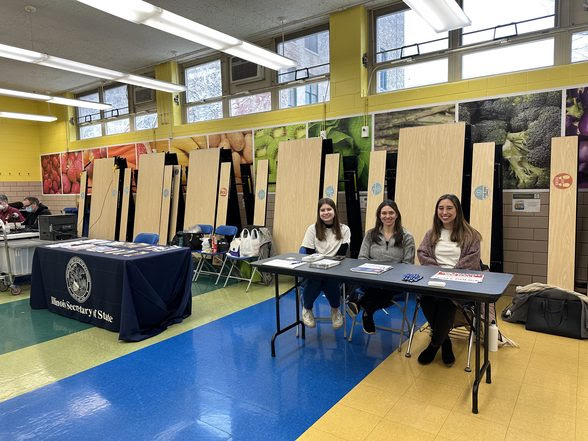 Mobile Driver Services Event
On Saturday, January 21st, my office hosted a Mobile Driver Services Event at LaSalle Language Academy. Constituents received services such as vision screening, organ or tissue donor registry, license plate renewal stickers, and more. It was a great way to offer the services of the Secretary of State's Office right here in the 12th district!
Lincoln Park Early Learning Center
I attended the Lincoln Park Early Learning Center ribbon cutting ceremony with 43rd Ward Alderman Timmy Knudsen, CPS CEO Pedro Martinez, Lincoln Park Zoo VP of Development Ginerva Ranney and Peggy Notebaert CEO Erin Amico. Congratulations to CPS, Principal Bryan Quinlan, and the young learners IL-12 on the opening of their new school!
Grant Opportunities
Connect Illinois Broadband Grant Program
Connect Illinois seeks to achieve ubiquitous broadband access for homes, businesses, and community anchor institutions. Allowable costs include network design, project planning, equipment, construction, and deployment of middle mile and/or last mile infrastructure. Potential applicants include businesses, nonprofits, cooperatives, school districts, and local governments. Proposals covering unserved and/or underserved areas are eligible for Connect Illinois grant funding. There is $350 million total available with a maximum grant size of $10 million. Preference given for a 50% match, but it is not required for an application to be competitive. The application process will roll through 2024, or until funds are depleted. Learn more.
Community Updates
Municipal Election
Fulfill your civic duty and vote in the Municipal Election on February 28, 2023. Mayor, City Treasurer, City Clerk, Alderpeople, and Police District Councils are on the ballot. Apply now to vote by mail or locate your polling place.
I would like to hear your thoughts and concerns on the Redefine the Drive project.
The next public meeting is anticipated to take place in Spring/Summer 2023. Although no plan has been approved, I want to make sure that your input is taken into consideration. Please email my office at info@repcroke.com with any questions or comments.
PAWS Chicago Partnership
We have a new PAWS Chicago pal to introduce for February: Meet Natasha!
Natasha is an energetic pup that will gladly play with you all day. She can be a little nervous around new friends, so a patient companion is highly recommended.
If you are interested in adopting Natasha or any of her other friends, check out PAWS Chicago for more information.
Small Business Shoutout
Every month we highlight a small business in our district. For February, we are excited to feature Klein's Bakery and Cafe!
Klein's Bakery, a Venezuelan Bakery and Cafe, is owned by two passionate sisters chasing their dreams in creating the most beautiful and delicious pastries in the Chicagoland area. Check them out for sweet Valentine treats!
If you have a favorite store, restaurant, or other business in the district for future Small Business Shoutouts, let us know!
As always, please reach out to my office with any questions or concerns.