Happy Spring! The Illinois General Assembly closed out our Spring session last weekend after staying at the Capitol all Friday night until we finished up at 6am on Saturday.
We passed a number of impactful bills this session, including two bills I was proud to chief sponsor:
HB4715, an initiative alongside the American Society of Interior Designers, which will allow for registered interior designers to stamp their own design plans for non-structural and non-load bearing construction. This legislation will help remove a major barrier in a predominantly female industry.
HB4388, which requires EMTs and paramedics to complete a one-hour course of training on the diagnosis, treatment, and care of individuals with Alzheimer's disease and dementia.
---
You may have also seen that we passed a new budget and a package of initiatives to combat crime and increase safety.
New Budget
Our new budget pays off our bill backlog, reduces the state's pension liabilities, adds to our rainy day fund and delivers $1.8 billion of direct tax relief to Illinois citizens. We are suspending the grocery tax for a year and the gas tax for six months, saving consumers approximately $110 million.
We are doubling the property tax rebate to save up to $300 per household and increasing and expanding the Earned Income Tax Credit (EIC) to cover more Illinoisans, including immigrants. EIC tax filers will receive additional one-time direct checks for $50 per adult filer and $100 for each child.
The budget also prioritizes some of our youngest residents. We are doubling the teacher tax credit for purchasing classroom materials and creating a back-to-school tax holiday for all consumers. To help ensure all children have access to clean drinking water, a crucial part of healthy development for young people, we are allocating $113M of the federal Infrastructure Investment and Jobs Act to replace lead service lines.
Crime and Safety
The legislature passed a number of provisions to prevent crime and build safer communities. We are adding more than $200 million for additional public safety and law enforcement measures, $124 million of which will go to supporting local police and reducing violent crime. This includes funding for body cameras, automatic license plate readers, ballistics testing and forensics, and non-lethal equipment to subdue suspects with less risk to life.
We included funding for mental health screenings for local police departments, a co-responder pilot program to bring crisis management and emotional support to victims, and law enforcement retention grants. $48 million is allotted to prevent carjacking by providing funding to local safety councils, youth summer jobs programs, YouthBuild Illinois, Teen REACH, Youth Redeploy Illinois, Parents Too Soon, and Comprehensive Community-Based Youth Services.
We passed new measures designed to help police address smash-and-grab shoplifting, carjackings and expressway shootings.
We're headed in the right direction, IL-12, and I'm proud of the work we did during this legislative session. Much of this progress is because of you and your advocacy on behalf of our community, and thank you for all of your support and outreach.
---
In the Community
18th District Easter Egg Hunt
Our office cosponsored the Near North Community Easter Egg Hunt with the 18th District Police Department. We helped fill over 500 Easter eggs!
Families and community members throughout the district came to join in on the festivities, rain or shine! The event was a great way to begin the spring season.
44th Ward Shred Event
Spring cleaning has begun! The 44th Ward hosted their annual Shred Event earlier this month.
We cosponsored the event with Alderman Tom Tunney, Senator Sara Feigenholtz, and MWRD Commissioner Mariyana Spyropolous.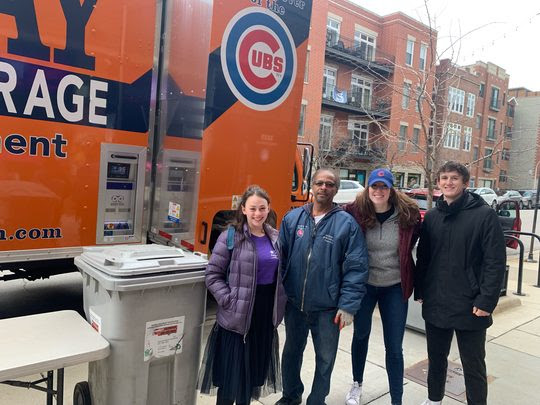 ---
Upcoming Events
Shred Event with the 018th District
We are co-hosting a Paper Shredding and Electronic and Prescription Drug Drop-off event with the 18th District Police Department on Wednesday, April 20th from 1-5 pm.
The event will take place in the 18th District Parking Lot (1160 N Larrabee), so be sure to stop by to drop off any personal documents you need to get rid of, electronics sitting unused, or medication you want to safely dispose of.
Webinar on the Tax Appeal Process
I am cosponsoring a free webinar on How to Appeal Your Property Tax Assessment on Wednesday, May 4th at 6 pm.
There will be a presentation on the process and opportunities to ask questions. Registration for the webinar will close on May 4th at 5 pm
.
Earth Month Drive Up Shred Event
My office is cohosting the Earth Month Drive Up Shred Event on Sunday, April 24th from 10 am – 1 pm at the Peggy Notebaert Museum (2430 N Cannon Dr).
Drive up with your recyclables and say hello!
---
PAWS Chicago Partnership
Last month, we started a new partnership with PAWS Chicago to highlight one animal each month that is waiting to be adopted.
This month, we're pleased to introduce Bella! This pup is a cutie and is eagerly looking for her forever home.
If you are interested in adopting or fostering Bella (or any of her friends), check out the PAWS website for more information.
---
Small Business Shoutout
Every month we highlight one small business from our district. For April, we are thrilled to feature Aroma Workshop!
"Create your own Signature Scent. How much fun is that! We also source therapeutic grade Pure Essential Oils and Aromatherapy remedies."
If you have a favorite store, restaurant, or other business in the district for future Small Business Shoutouts, let us know!
---
As always, please don't hesitate to reach out. Wishing you a safe and relaxing spring!