Following spring break recess, the General Assembly returned to Springfield for the final few weeks of session before adjournment in late May. I have a few updates for you on the progress we've made to move some of my top legislative priorities forward.
Two of my bills, HB1186 and HB3425, have moved out of their assigned Senate committees and await a vote on the Senate floor:
HB1186, the HMO Referral Bill, allows patients enrolled in an HMO insurance plan to access in-network services and providers without actively obtaining a referral from a primary care physician. Sen. Laura Fine is the Senate Chief Sponsor for this bill.
HB3425, updates the Illinois Bullying Prevention Statute from 2012 to require schools to notify parents or guardians within 24 hours of a bullying incident, among other measures to help keep our students safe. This bill is led by two Senate Chief Co-Sponsors, Sen. Sara Feigenholtz and Sen. Cristina H. Pacione-Zayas.
I recently spoke with Capitol News Illinois about my cyberbullying bill and the importance of modernizing our legislation to reflect the realities of today. Check out the recent piece here.
Over the next few weeks, the House will continue voting on bills from the Senate, work on a few pending House bills, and move towards finalizing a budget that supports all Illinoisans. As always, I am committed to being a voice for our shared values in Springfield. If you have any questions on pending legislation or the budget process, please feel free to contact my office at info@repcroke.com.
Advocacy Day Visits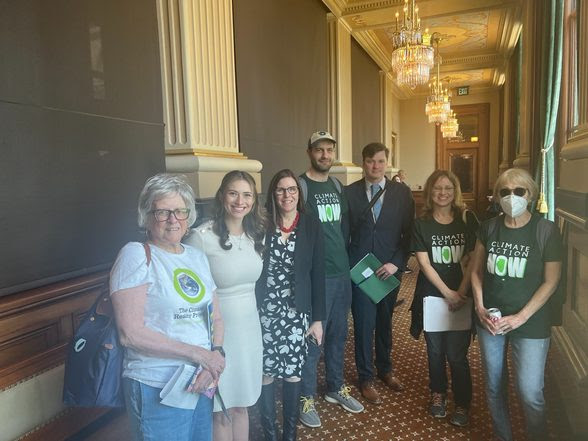 One of the many things I look forward to while in Springfield is connecting with constituents from organizations doing great work for our communities. This past week, I sat down with members of the Jewish United Fund of Chicago and the Illinois Environmental Council to discuss the importance of legislation that supports families and continues to move our state into a cleaner future.
Wine Night with Your Elected Officials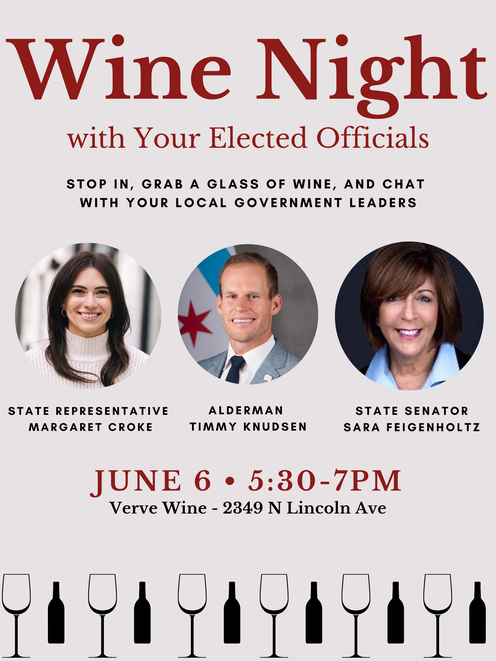 I am co-hosting a Wine Night with State Senator Sara Feigenholtz and Alderman Timmy Knudsen on June 6 from 5:30 pm – 7 pm at Verve Wine. Stop in, grab a glass of wine, and meet your local elected officials! RSVPs are not required for this event. If you have any questions, feel free to email us at info@repcroke.com.
Grant Opportunities
Deadline approaching: $175 million in Back to Business Grants are available for restaurants, hotels, and creative arts organizations. Applications will be accepted through May 10, 2023. More information can be found on the DCEO website.
The Illinois Department of Commerce and Economic Opportunity (DCEO) recently announced two new workforce grant opportunities!
The Film TV Workforce Training Program will support grantees in providing training programs that develop a diverse and inclusive workforce in the film industry. More information can be found here.
The Illinois Climate Works Pre-Apprenticeship Program supports grantees who will provide students support to build a career in the clean energy industry. More information on that grant can be found here.
Do you want to stay up-to-date on active state grant opportunities?
Subscribe to Illinois NOFO Notifications to receive a weekly digest of Funding Opportunities (NOFO) offered by state agencies.
To subscribe, send a blank email (subject and body) to subscribe-omb-gata-grants@lists.illinois.gov.
In the Community
018th District CPD Easter Egg Hunt
I had the pleasure of helping set up the 018th District CAPS Annual Easter Egg Hunt. Thank you to Sgt. Schenk and the whole 018th CPD CAPS team for all of your hard work on this great event. PJ and I will definitely be back next year!
DCEO Tourism Grant Press Conference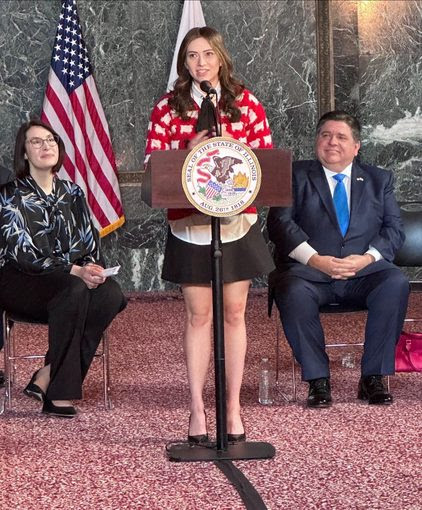 I'm proud to have joined Governor JB Pritzker and the Illinois Department of Commerce & Economic Opportunity for the announcement of tourism funding grants that will help support and grow our tourism industry. For more information on the announcement, click here.
Community Shred Events
My office co-hosted two shred events this month. Thank you to everyone who stopped by the 44th Ward office and Peggy Notebaert Nature Museum to participate in the event. My team and I enjoyed volunteering and connecting with so many community members.
Thank you to Senator Feigenholtz, Alderman Knudsen, and Alderman Tunney for your partnership!
Children's Advocacy for Change Youth Leadership Event
Last month, I visited Walter Payton College Preparatory High School to attend their Children's Advocacy for Change Youth Leadership Event. The students presented on policy topics including mental health funding and access to college-readiness programming. I was so impressed with their ideas and engagement on such important matters. Illinois, get ready for these new, emerging leaders!
Rising Stars in Illinois Politics Discussion
In April, I was featured as a guest speaker on a new series, "Rising Stars in Illinois Politics" hosted by Southern Illinois Carbondale's Paul Simon Public Policy Institute. I spoke about my early career in government and my experience running for state representative. Thank you to John Shaw for having me! Click here to watch.
Community Updates
The Illinois Psychiatric Society is holding its first Carl C. Bell, MD Memorial Award Essay Contest as a community initiative for Illinois high school students. The award was created to honor the late Carl C. Bell who dedicated his career to fighting for mental health equity, finding solutions to end community violence, and motivating future generations. This year's essay question is "What does mental health mean to you, your peers and/or your community? Do you feel mental health has been affected by societal factors such as healthcare inequity, community violence, post-pandemic anxiety, isolation, or racial injustice?"
Submissions are due on June 1, 2023, and the winner will receive a $500 cash prize. Apply here.
Medicaid customers have not had to renew their Medicaid coverage since the COVID-19 pandemic began. Now, Illinois is starting renewals again to check eligibility. Click Manage My Case at abe.illinois.gov or call 1-800-843-6154 to check your renewal date and find additional information.
The federal government announced the end of the emergency supplemental SNAP benefits that started in April 2020. Beginning this month, Illinois LINK households will only receive their regular monthly benefit. For more information, including other federal and state-sponsored programs, visit here.
The Redefine the Drive Lakeview neighborhood community meetings took place on Thursday, April 20th. The task force presented potential improvements that would occur between Belmont Avenue and Addison Street. If you were not able to attend the meeting, you can view the presentation here. The task force would like to hear your input! Email questions and comments to info@ndlsd.org.
PAWS Chicago Partnership
We have a new PAWS Chicago pal to introduce for May: Meet Boyce!
Boyce is a loveable dog who loves treats and giving kisses. He is a young dog with lots of energy, but is an eager student and ready to learn.
If you are interested in adopting Boyce, or any of his friends, check out PAWS Chicago to find more information.
As always, it is my priority to ensure my office serves as a resource to you and that your voices are heard. Don't hesitate to reach out!