Happy Spring! I hope you are enjoying the warmer weather and the extra minutes of sunshine. While you are preparing for all of the spring festivities the district has to offer, I want to share a few of my favorites with you:
One of my favorite activities is visiting the local farmers markets with my family. The Green City Market and the Nettelhorst French Market both reopen this month! I look forward to continuing the tradition and bringing PJ and Mary to the neighborhood markets, and I hope to see you there.
Another activity that has become an office favorite is the Chicago Parks Foundation's Pitch In for the Parks volunteer opportunity. It's a great way to connect with members of the community while helping maintain the beautiful parks in our neighborhoods! To inquire about volunteer opportunities for this upcoming season, visit here.
With the new season comes the opportunity to shred the old and start anew. My office is co-hosting two upcoming shred events this month! Both events have a TWO box limit per household:
I am joining Alderman Tom Tunney and Senator Sara Feigenholtz for the annual 44th Ward Shred event on Saturday April 15th from 9 am – 12 pm at the 44th Ward office (3223 N Sheffield Ave). Arrive by 11:45 am for secure document shredding.
Senator Feigenholtz and I are partnering with Alderman Timmy Knudsen for an Earth Day Shred event on Saturday, April 22nd from 10 am – 1 pm at the Peggy Notebaert Museum (2430 N Cannon Dr).
I hope this new season brings you and your families many chances to explore Chicago and begin your own springtime traditions!
Legislative Highlights
The House is currently on spring break until April 14th. In the last few months, I have been in Springfield meeting with stakeholders, attending committee meetings, and reviewing your feedback on a variety of bills.
Two weeks ago marked the Third Reading Deadline in the House, signifying when House bills needed to be passed and sent over to the Senate for further review. My colleagues and I passed 443 bills to the Senate, and the Senate passed 265 bills over to the House, which we will begin to work on once we return from break.
The House passed five of my bills, and three of my bills were referred to assignments in the Senate:
HB1186 allows patients enrolled in an HMO insurance plan to access in-network services and providers without actively obtaining a referral from a primary care physician. This legislation seeks to remove barriers to accessing essential healthcare services, including reproductive health services (e.g., abortion care and fertility services) for all individuals.
HB2477 creates the Pregnancy Expenses Act, which requires the other party to a pregnancy or the other intended parent to pay at least 50% of the pregnant individual's pregnancy expenses. This will set a precedent for shared responsibility for pregnancy expenses to ensure mothers aren't continued to be saddled with a financial burden that could follow them for years.
HB3425 updates the Illinois Bully Prevention Statute from 2012. The legislation expands the definition of bullying to add protected characteristics, creates new requirements for the Illinois State Board of Education to better prevent cyberbullying and understand when it's occurring, and establishes 24 hour notification to parents about bullying incidents. The children of IL-12, and across Illinois, deserve protection from cyberbullying and laws that promote safety.
Thank you to WGN Radio with Lisa Dent and WCPT with Joan Esposito for having me on their programs to speak about these bills.
When we return to Springfield later this month, we will be reviewing and voting on the bills from the Senate, as well as continuing to participate in the budget-making process. I look forward to working alongside members in both chambers to advocate for these critical pieces of legislation. Follow along by visiting ilga.gov.
Wine Night with Your Elected Officials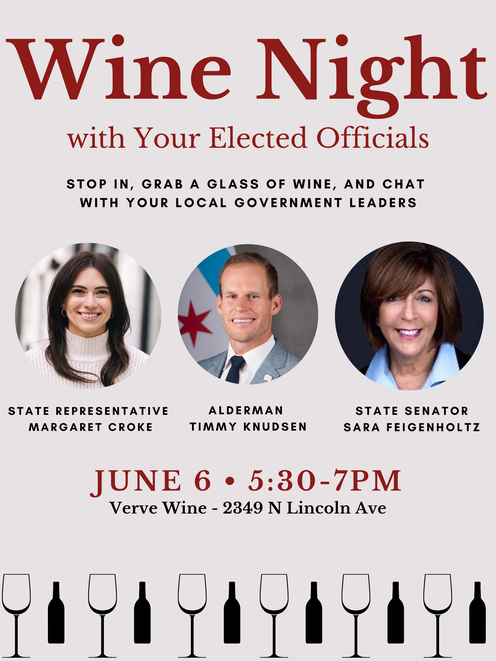 I am co-hosting a Wine Night with State Senator Sara Feigenholtz and Alderman Timmy Knudsen on June 6 from 5:30 pm – 7 pm at Verve Wine. Stop in, grab a glass of wine, and meet your local elected officials!
Grant Opportunity
$175 million in Back to Business Grants are available for restaurants, hotels, and creative arts organizations. Applications are open from April 5 through May 10, 2023. More information can be found on the DCEO website.
In the Community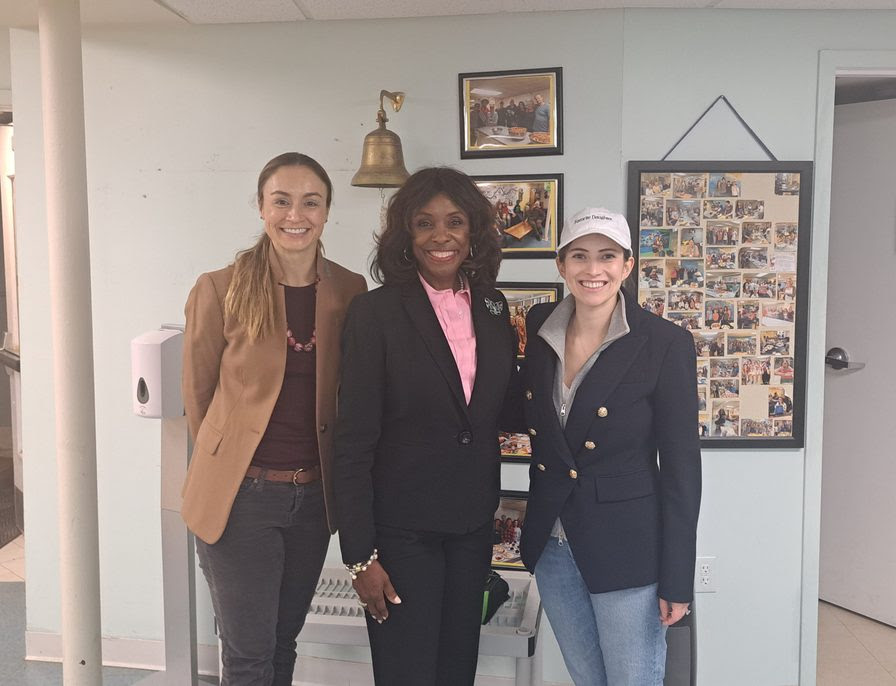 Lincoln Park Community Services Visit
I had the opportunity to visit Lincoln Park Community Services, Non-Profit Shoutout for the month of March. I toured the facility along with CEO Cheryl Hamilton-Hill and Board Member Katelyn Downing and learned about the services they offer to individuals experiencing homelessness. The 12th district is fortunate to have a non-profit organization that empowers and supports those in need, and I look forward to continuing these conversations and advocating for the needs of non-profits in the district. To learn more about this organization and volunteer opportunities, visit here.
Community Updates
The Illinois Psychiatric Society is holding its first Carl C. Bell, MD Memorial Award Essay Contest as a community initiative for Illinois high school students. The award was created to honor the late Carl C. Bell who dedicated his career to fighting for mental health equity, finding solutions to end community violence, and motivating future generations. This year's essay question is "What does mental health mean to you, your peers and/or your community? Do you feel mental health has been affected by societal factors such as healthcare inequity, community violence, post-pandemic anxiety, isolation, or racial injustice?"
Submissions are due on June 1, 2023, and the winner will receive a $500 cash prize. Apply here.
Medicaid customers have not had to renew their Medicaid coverage since the COVID-19 pandemic began. Now, Illinois is starting renewals again to check eligibility. Click Manage My Case at abe.illinois.gov or call 1-800-843-6154 to check your renewal date and find additional information.
The federal government announced the end of the emergency supplemental SNAP benefits that started in April 2020. Beginning this month, Illinois LINK households will only receive their regular monthly benefit. For more information, including other federal and state-sponsored programs, visit here.
The Illinois Department of Revenue is offering a free basic income tax preparation assistance program for low-to-moderate income individuals, families, and older adults through several trusted companies around Illinois. For more information about this program, visit here.
The next Redefine the Drive community meeting is scheduled to take place on Thursday, April 20th, 2023 at Temple Sholom (entrance on Stratford Place), 3480 North Lake Shore Drive. There will be two public meetings, and registration is requested for each session. See below for more information and please send questions and comments in advance by using the registration page via email to info@ndlsd.org.
The first session will be from 2:00 – 4:30 pm, with the presentation scheduled between 2:30 – 3:00 pm. The registration link can be found here.
The second session will be from 6 – 8:30 pm, with the presentation scheduled between 6:30 – 7:00 pm. The registration link can be found here.
PAWS Chicago Partnership
We have a new PAWS Chicago pal to introduce for April: Meet Franklin!
Franklin is looking for a family with a private yard so that he can run around all day. After burning his energy, Franklin loves receiving all the pets and belly rubs from his companions. If you are interested in adopting Franklin, or any of his friends, check out PAWS Chicago to find more information.
As always, please feel free to reach out to my office with any questions or concerns. I look forward to seeing you around the district!